So I've known about McFatty Monday over at
Heir To Blair
, but I wasn't really sure how to join in. There wasn't a button or a linky or anything on her site. So trusty rusty old Google lead me to Heidi at
It's Just Me..Heidi-D
and it turns out she has a button and a linky and everything, apparently authorized by Blair herself. And I really love buttons and linkys, so here we go.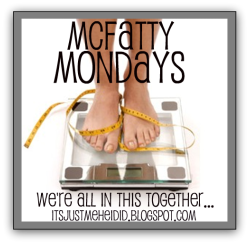 So I've kind of told this story before, but I'll go over it again. Really fast. I've kind of struggled with weight my whole life - I was a chubby preteen once I hit puberty. I slimmed out as I got more involved in ballet dancing, and felt pretty good about my body while I was dancing. I quit dancing at 16 (stupid, stupid, stupid) and weight crept back on after that. I packed on the pounds after I got back together with M (depression from basically quitting my life to accommodate his), and then I exacerbated that by getting pregnant - not one, not two, but three times within 16 months! I got pregnant in April of '08, had an early miscarriage, got pregnant in June with B, carried her for 26 weeks, gained 12 lbs after losing her, got pregnant with E in February '09 and was a total whale by the time I had him at 29 weeks. I didn't have a lot of time to worry about weight loss while he was in NICU, but I lost some weight just due to breastfeeding and not really having time to eat a ton. Then when everything happened with M, I quickly went on what I called the "Divorce Diet" - I was never hungry, I literally had to force myself to eat, and I dropped 30 lbs without even trying. It was sweet.
Then, the shock started wearing off, and I went back to my old bad habits. I've been taking a pretty intense course load in school since summer semester, and I always feel like I concentrate better if I have a snack while I'm studying. This has lead to me gaining a little weight back, since I don't always reach for carrot sticks ;). I was doing really well at exercising for awhile, but my crazy class schedule in the summer derailed me from that, too.
I feel disgusting, so it's time for me to stop making excuses and get back on track. Also? At some point, my divorce will be final, and I'd kind of like to start dating after that time comes. And it's not going to happen while I'm feeling the way I do right now. Blech.
So this is me, recommitting. My basic plan right now is to restart the 30 Day Shred and choose to eat fruit and vegetables more often, and carbs less often (I eat WAY too much bread and sugar!). I'll check in each Monday to let you all know how the week went.
If I don't? Throw rocks. Please.